There is an agile myth out there: Collocated teams are at least 40% more productive than dispersed (same team on different locations) or distributed (different teams on several locations) ones. I recently did some study on that topic and found a model that very neatly explains the reasons behind the drop in performance. Maybe this knowledge will aid you in your daily work.
The model I am talking about is the "virtual distance model", invented by Karen Sobel Lojeski and Richard R. Reilly. The model is fully described in their 2008' book
Uniting the Virtual Workforce: Transforming Leadership and Innovation in the Globally Integrated Enterprise
.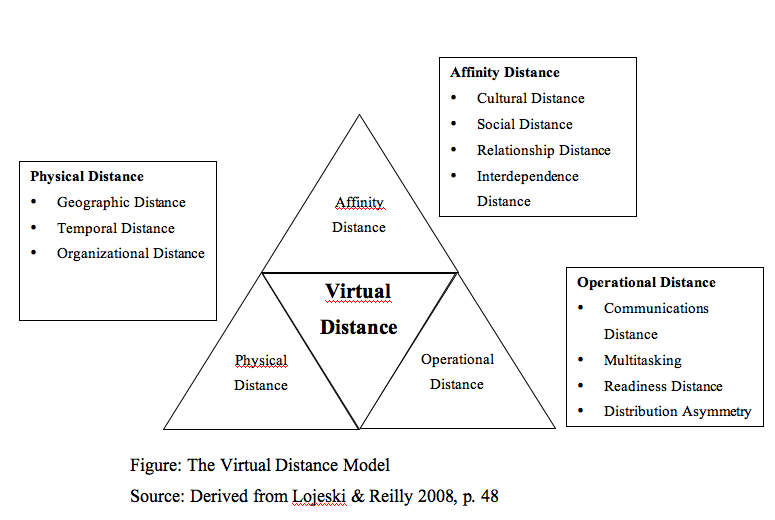 The authors state that virtual distance applies for every human interaction with another human being. It consists of three dimension: Affinity distance, physical distance and operational distance. While many other authors focus on "geographic distance", Karen only sees it as a fraction of physical distance. It is supplemented by temporal distance and organizational distance. Let's look at it more closely and see, if you have met those before.
Geographic distance means that people are physically apart - 15 meters or more. So as soon as there are stairs involved, a wall or too many steps to walk, you are faced with geographic distance (Thomas J. Allen did a study in 1977 and published it in his book
Managing the Flow of Technology
- you can read more about the exact distance and classification there.)
Temporal distance means that people are working asynchronously. This can either happen if people are working in different time-zones (that's obvious, of course). But this can also happen if people start and end working at different times. For example, if somebody starts work at seven and finishes at three while somebody else comes in at 11 and stays until eight in the evening, you are faced with temporal distance.
Organizational distance basically means that there usually is a distance between different departments and organizations. You can spot this when people start talking about "us" and "them". Did you ever condemn "those stupid marketing people"? Well, there you go...
You can see, that physical distance is far more complex than just "being in different countries". This is similar with "operational distance", which basically means that the tools and frame conditions can pose a problem, contributing to virtual distance. Communications distance is pretty obvious: You can send less information via email than you can in a face-to-face interview. Unfortunately, most people don't mind this knowledge and communicate most of the day via email. I could name many instances on the spot, where just the communication channel contributed to a major conflict in an organization... All media can be considered according to it's "media richness". The media mix must fit the needs of your team and environment. If it doesn't, you increase your operational distance.
In our Professional Scrum Master courses we teach our students that multi-tasking is a bad thing. Of course I know this from my own experience and lean teaches it as well. But here comes the interesting bit: Multitasking contributes to operational distance due to a lack in focus. Or easier put: People don't feel as close to one another if they are working on different things and they are walking on edge due to the stress involved in task switching.
Even if you heed those lessons, "readiness distance" can break your neck. It describes the "readiness" of your IT infrastructure. Imagine that you have a beautiful communication strategy which involves video conferencing. Then you have your first meeting, switch on the equipment - and nothing happens. People grow inpatient while you try to fix it, call in your IT expert only to be told that "there is a license missing". If you are lucky, people won't give up on you just yet...
Distribution Asymmetry is the last part of the puzzle to complete operational distance. It means an unbalanced distribution of your workforce. For example, if two of your people are working in the satellite and five are in the group headquarters, you instantly get "them" and "us" again. By the way: This happens the other way around as well.
The most important distance is the "affinity" distance. You can have it even if your people are sitting right next to each other. It comprises of cultural distance, social distance, relationship distance and interdependence distance. You probably know cultural distance - it happens if people have different cultural backgrounds. This can be true within a country as well: In Germany for example there is a slightly different culture in "East" and "West" as well as between the different states. A Bavarian has a certain cultural distance when interacting with a "northern light" coming from Hamburg (any other state could have been chosen here as well). Social distance means the status within society, that might oppose that of a team mate. Imagine an "Earl of Winchester", honored with an phd and teaching at university, working together on a project, formally equal, with John Doe, who just has finished high school. Can you imagine any conflicts arising from that constellation? While this constructed example is quite obvious, there are many social nuances that have to be considered and addressed in a team if you want to keep the social distance low.
Relationship distance is described as "the extent to which you and others lack relationship connections from past work initiatives". Flatly: People don't know if they can trust each other, because they don't know their new colleagues. It manifests as a "sense of unfamiliarity".
Interdependence distance happens mostly when there is no shared vision. People don't walk into the same direction and therefore don't commit to each other. Maybe you have spotted sentences like "well, my part is working, it's <put a name in> who has to fix his code, not me".
As you can see, there are many dimension you have to consider when forming a virtual team. All of the aforementioned distances will occur, it's up to you to make them transparent and to address them. They are not bad in themselves - they are natural. They are one of many reasons why you desperately need Management - you will fail if you try to solve this immense problem by yourself. It's easier of course, if you stay with collocated teams. It reduces your project complexity. Unfortunately, 65% of the teams in our industry are not collocated but distributed or dispersed. Those teams will be (on average) less productive than the collocated ones. But they can be of strategical importance and there usually are reasons why the companies go for them. Don't condemn them too quickly. And then get back to your work, make the different dimensions of distance transparent, measure them and reduce them.
Good Luck!