You most likely will remember the start of our great study, the
"Nature of Scrum Survey"
. The original idea was to collect 200 or more responses (so it is remotely statistically validate-able) and conduct the statistical analysis in August. Even though many people participated and offered their opinions, only 165 replies (74 for the Schneider questionnaire) could be gathered. This is not enough, as you can see in the burndown chart (yellow is the main study, blue the Schneider add-on):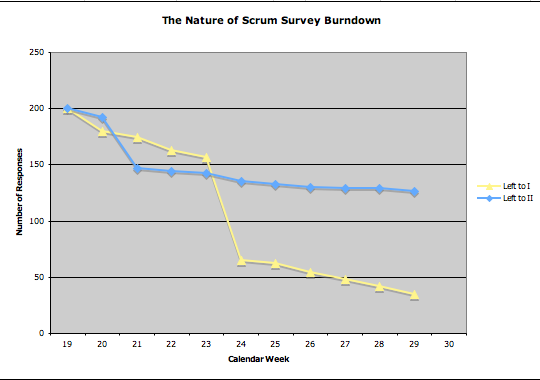 To make this even worse, there was a break out of the summer holiday epidemic, so a simple extension by a week or two won't work. Instead I decided to extend the data entry period to end of September / early October. If you are waiting for the results, this means that you will have to wait a little while longer - sorry about that. I believe this to be necessary since the quality of the results is more important than a quick answer.
In case you want to support the endeavor and haven't filled out the survey yet, visit
http://scrumorakel.de/surveys/
and sacrifice some of your precious time. You are of course welcome to spread the link among your networks. The more replies we get, the better the results will be.