This is a not exactly a Scrum topic, but it IS quite useful to every Scrum Master. In addition, when coaching new Scrum Masters I often find that they don't have a clue about what they need to get started. That's why I let you peek into what I usually use.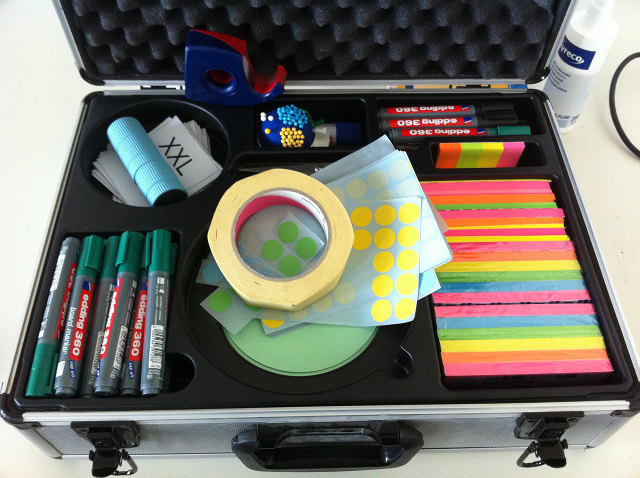 What you can see here is a standard moderation suitcase filled with all the good stuff I usually use during my meetings. The contents last for about a week, depending on the amount of moderated workshops. Let's take a closer look at what you can find in there: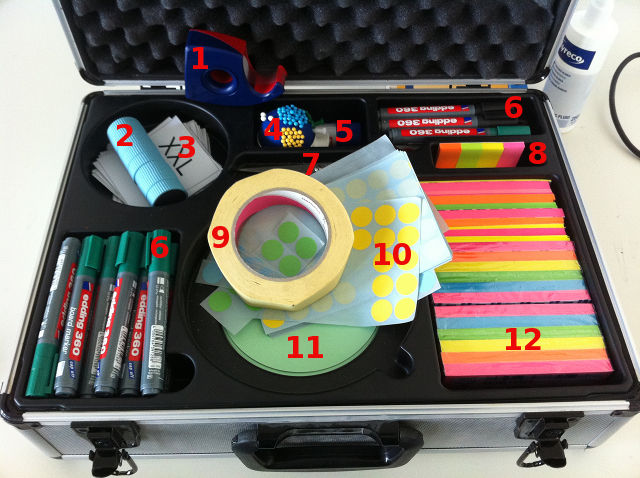 Invisible tape. Always helpful for tying stuff to other stuff or fixing sticky notes permanently to a sheet of paper.
Magnets. Useful, if you want to pin paper charts to a whiteboard.
Planning poker cards. For this customer, we could not use Story Points, so I switched to T-Shirt sizes. Whatever the metric, you should always be ready to estimate some Product Backlog items.
Needles for pinning cards or paper sheets to a pin board. Note that the needles are ready-to-use and not in some plastic casing.
A glue stick. Hard to see on this picture. You never know if you want to glue something to something else. I rarely use it, but I am glad to have it when I do.
Pens. Those pens are whiteboard-pens, so they are easily wipeable. I never use flipchart pens, because sooner or later they end up on the whiteboard and I have to struggle to get it off again. The colors I use are black, green, blue and red. I always have at 20-25 pens with me.
Scissors. You never know when you want to trim something. It happens more often than one might think.
Very small sticky notes. They are good to mark off stuff.
Painers' tape. You need it to fix bigger paper charts (flipcharts, brownpaper and so on) to the wall.
Points in different colors. I use them for voting and sometimes for highlighting.
Small round moderation cards. I rarely use moderation cards, but sometimes I need them.
My lovely sticky notes. The size is 127x76 mm. You should find some that last for more than 4 weeks on the wall. I prefer bright colors, because they can be seen and draw attention.
A kitchen timer. You actually can't see it, but I always have a timer with me. I usually timebox every single assignment during a workshop.
With such a suitcase you are well equipped for any moderation task that might arise. You of course will need a whiteboard, flipchart and/or large sheets of brown paper - but those don't fit into a suitcase...